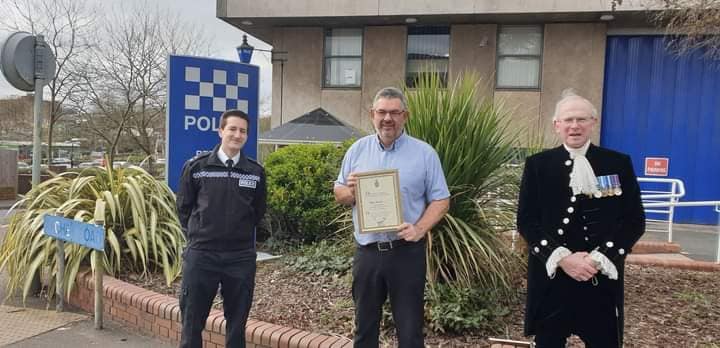 On the 2nd April 2021The High Sheriff of Wocestershire .Mark Jackson OBE made an award to Pete Martin of the Redditch Self Defence Association.
These awards recognise the work of individuals, community groups or voluntary organisations within Worcestershire, particularly those unsung heroes who go above and beyond to improve the lives of others in our county.
Pete has worked for the last 9 years Fighting Knife crime accross Worcestershire in Schools and Colleges.
Petes association works with partners all over Worcstershire including Active Hereford and Wors , Positive activites at RBC and Social workers .
He has outreached to nearly 20,000 young people .
He has also lobied Parliment to change how the Ministry of Justice deals with Violent and sexual crime ,
Pete was nominated by Police Inspector Lee Page of West Mercia Police. for his youth engagement work and Anti Knife Crime campaign,
Pete's programme provides a crucial opportunity for police and partners to divert vulnerable young people in Redditch away from the risk of criminal exploitation. Youth activities play an important role in the delivery of positive messages and safeguarding measures to young people and their parents, providing a safe space to influence attitudes and behaviours. Without these programmes we know young people can become vulnerable to being lured into various forms of criminality including, for example, violent crime and county lines. We have seen some fantastic success stories and positive feedback from young people and families who have been referred to Pete and it is vital we continue to take all opportunities to engage with young people who are at risk of offending or victimisation as early as possible.
Pete also recieved a letter From MP Racheal Maclean saying .
I am pleased you are being recognised in this way.
The work you have done and continue to do in invaluable .
Pete said i am humbled that i should recieve this award and i Hope it raises awareness of the awful Crime that is affecting our community.
Pete does large presentations 121 referal work and runs small free classes for more info check out Redditchselfdefence.co.uk
Inspector Lee Page Pete Martin Mark Jackson OBE